JACKSONVILLE – Progress is needed, and it's being made.
That's an offseason focus for multiple Jaguars players – and Head Coach Doug Pederson discussed one of those players, linebacker Devin Lloyd, as 2023 organized team activities began this week at TIAA Bank Field.
"He's really done a nice job," Pederson said early this week.
Lloyd, the No. 27 overall selection in the 2023 NFL Draft, started 15 games as a rookie and registered three interceptions and eight passes defensed while finishing second on the team with 115 tackles. While he was replaced briefly in the lineup by fellow rookie Chad Muma in Weeks 11 and 12, he returned to start the final five regular-season games and two postseason games.
"He's one of the guys that's taken a step in the right direction that way – and the more reps he gets, he's just going to get better and better," Pederson said.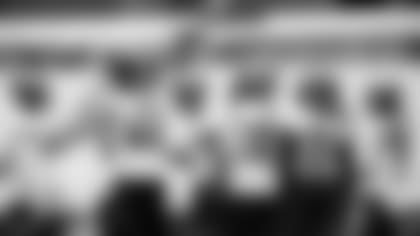 Another key defensive second-year storyline: Outside linebacker Travon Walker, the No. 1 overall selection in the '22 draft, who started all but three games as a rookie and registered 3.5 sacks.
Pederson throughout the offseason has discussed the need for improved production from both Jaguars starting edge rushers, Walker and 2019 No. 7 overall selection Josh Allen – and they were again a topic early this week.
"Both are in different stages of life," Pederson said of Walker and Allen, "yet both of them have the same goals and aspirations in mind. Both of them are hard workers. They're leaders of the team."
Pederson said a focus for Walker will be increasing his pass rushing repertoire, adding that coaches must still determine "within the scheme, where does he line up – outside, off the ball, wherever it might be."
Pederson said "understanding those things we're asking of him" will be key for Walker, who said he and Lloyd have spoken this offseason about improving in Year Two.
"It's basically just like going in and starting high school," Walker said. "You start with just like a regular math class. You're always going to bump it up to pre-calculus, something like that. It was just time to take it to that other level that we know we were capable of and that we were drafted that high for."
And on that front, Pederson said the signs he has seen from multiple young players around the roster are positive.
"What you're seeing with those second-year players is the confidence they have because they played last year," he said. "It goes back to what we're doing schematically. They know the defense, they know the offense. So, there's confidence in that. This is where guys like Travon, our rookies a year ago, can take that next step in a Year Two."
Pederson said similar progress can be seen in older players who last season were in their first season in defensive coordinator Mike Caldwell's system.
"I say the same for Chad [Muma] and really even [veteran linebacker] Foye [Oluokun]; he was just really a second-year player for us," Pederson said. "You see the confidence in these guys out there on the field and that will carry over as we start the season."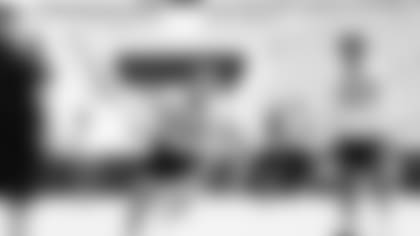 Pederson on the possibility of adding a veteran pass rusher before the 2023 regular season: "We're always trying to improve. Whether it's schematically or positionally or personnel, we're always looking. It's something that we'll take a look at, but every [NFL] roster is pretty much set at this stage of the game. It would have to be something that was pretty enticing to bring somebody onto your roster, which means you'd have to let somebody go. That's a hard thing to do."
Pederson on veteran safety Rayshawn Jenkins this offseason: "He has been in a great frame of mind. His leadership, his toughness we saw last year – just understanding the defense – I see it every day that we're out on the grass. He's one of those guys you lean on because they're starters and they're valuable to your team. He has done a nice job."