JACKSONVILLE – Jaguars 2022 Rookie Minicamp continued Saturday.
The Jaguars' first rookie minicamp under Head Coach Doug Pederson is being held inside TIAA Bank Field, with Saturday's session – like Friday's – mostly drill work with some seven-on-seven work. Here are Saturday's "campservations" from four members of Jaguars Media – senior writer John Oehser, senior correspondent Brian Sexton, senior reporter/editor J.P. Shadrick and team reporter Ashlyn Sullivan:
Jaguars Senior Writer John Oehser…
Saturday's primary takeaway from '22 minicamp Day 2 by necessity is very similar to the big Day 1 takeaway – that No. 1 overall selection Travon Walker leaves a very good first impression. He continued to draw attention of the gathered media Saturday, working extensively on the side with outside linebackers coach Bill Shuey on the side. While it's repeating a major theme from Friday, it's impossible to watch Walker without being impressed with size, strength, athleticism and length that is striking – even by NFL standards. Other thoughts that stood out Saturday: Wide receiver Kevin Austin Jr. continued to impress, and quarterback E.J. Perry appeared perhaps more settled and accurate on Day 2 – though the wide receivers as a group struggled to catch more than you would like. Linebackers Devin Lloyd (Round 1) and Chad Muma (Round 3) also continued to stand out with their athleticism and speed and awareness, which is as you would expect. Anything else would be a concern.
Jaguars Senior Correspondent Brian Sexton …
You just needed to look at the rookies from across the field to know who the top players were. I didn't even know all their numbers, but Lloyd and Muma and offensive lineman Luke Fortner stood out among the mix of draft choices, undrafted rookie free agents and tryout players. Nothing against the two dozen or so guys there to help the Jags conduct a meaningful minicamp but it's easy to see why Walker Lloyd, Muma, and Fortner were among the first 70 picks last month. They're not just bigger and longer and more impressive standing still, they're effortless athletes – and in the case of the linebackers, they're instinctive players who look like they knew what they were doing – but couldn't possibly have a grasp of what's expected of them. They looked comfortable running around, which was different from the guys who might not be there in August.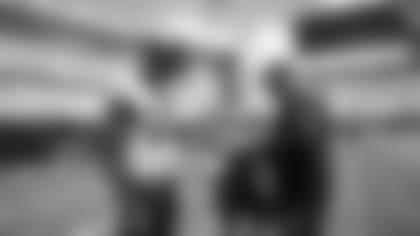 Jaguars Senior Reporter/Editor J.P. Shadrick …
Perry throws a nice ball, but after throwing them all about 100 miles an hour Friday, it looked like he toned it back some Saturday while taking all the reps as the lone quarterback on the field. Lloyd continues to impress on the field, certainly in this rookie environment, but off the field the more you hear him talk and watch him go about his business, you realize quickly why he was so successful at Utah. Getting in with veterans like Josh Allen for off-site work doesn't hurt, either. I'm curious if any of the 14 tryout players make it; if they do, then it might not be immediately. This is a good opportunity to get a look at some players that could be available on the street later in the offseason or even into the regular season once some attrition takes place.
Jaguars Team Reporter Ashlyn Sullivan …
Jacksonville is going to love Lloyd. It's easy to favor someone who is comfortable and confident in front of the media, but Lloyd's relatability stood out to me Saturday. On the field, there were multiple times where he stood with defensive coordinator Mike Caldwell, building that relationship and already being coachable. It should not be overlooked how much better the inside linebacker room suddenly has gotten with Muma and Lloyd. Muma spoke Saturday about the Jaguars having the advantage of having both draft picks involved as a "starters" – both ready to go in different packages. For Lloyd, he stayed in Jacksonville after he was drafted to train with Dawuane Smoot and other members of the defensive line. He is wasting no time diving into this team and it's pretty clear the trade-up to get Lloyd in the first round was worth it.