JACKSONVILLE – This was the right time for a new start.
If there was a reason the Jaguars traded cornerback CJ Henderson, Head Coach Urban Meyer said that was it. A major factor, too:
The opportunity to address their tight-end position, which the Jaguars did Monday morning when they traded Henderson – the No. 9 overall selection in the 2020 NFL Draft – to the Carolina Panthers for veteran tight end Dan Arnold.
"We're really excited about Dan Arnold," Meyer said Monday, a day after a 31-19 loss to the Arizona Cardinals at TIAA Bank Field.
Meyer, who said rookie cornerback Tyson Campbell's development also keyed the decision to trade Henderson, said the team coveted Arnold this past offseason. A sixth-year veteran, Arnold has 56 career receptions for 776 yards and seven touchdowns.
Arnold, originally an undrafted collegiate free agent with the New Orleans Saints, signed with Carolina as an unrestricted free agent in March from the Cardinals.
"He's a hurdler, he's fast, his big – and his ball skills are very, very good," said Meyer, who said Arnold will play against the Cincinnati Bengals at Paul Brown Stadium in Cincinnati, Ohio, Thursday at 8:20 p.m. "I wanted him. We just couldn't fit it in with all the other stuff going on [in free agency]. The thing that knocked it over the edge with me was Carolina was hesitant to get rid of him because of his leadership.
"He was on their leadership committee. He's very well-respected, which those are the mindset things that I'm trying to really put together." Head Coach Urban Meyer on Arnold
Meyer said trade discussions involving Henderson began last week, and that Henderson did not play against the Cardinals because of a groin issue. Henderson missed 10 of 19 Jaguars games in a little more than a season because of injuries.
"It might be a good, fresh start for CJ," Meyer said. "I love CJ. I've spent a lot of time with him and his parents. I think it's going to good for both of us. He missed a lot of games.
"We just think it's best for both. He's an extremely talented guy: great size, great length, great speed. But he misses a lot of action."
Jaguars cornerback Shaq Griffin said of Henderson, "As a teammate, as a friend, it's tough. I think we all know business is business. We wish him the best. We're definitely always rooting for him."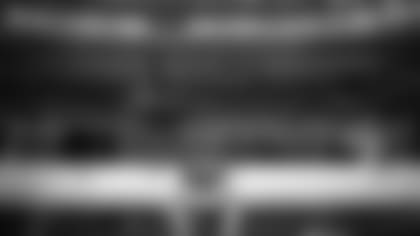 Meyer added that Carolina - which lost rookie cornerback Jaycee Horn to an injury Sunday – was aggressive pursuing Henderson, who will be replaced in the lineup by Campbell. The Jaguars selected Campbell No. 33 overall in the 2021 NFL Draft and he started against Arizona Sunday.
"I saw Tyson as a young cornerback, as a rookie cornerback, do some great stuff yesterday – do some good things yesterday," Jaguars safety and captain Rayshawn Jenkins said. "There is always a learning curve with rookies. I don't know of one rookie that I've played with that didn't have a learning curve. He has some things to fix, but I do like what he brings to the table."
Meyer called Campbell perhaps the No. 1 factor in the decision to trade Henderson.
"He's starting to perform where we expected him to be," Meyer said.
Monday's trade leaves Griffin and Campbell as the starting cornerbacks, with Chris Claybrooks and Nevin Lawson also active Sunday. Meyer said following Sunday's loss that veteran Tre Herndon should play Thursday after missing the first three games with a medial collateral ligament injury.
"I wouldn't say we were too shaken up," Jenkins said. "I feel like we have everybody we need. CJ was a good player. I know he's going to go there and make an immediate impact. I wish him the best."
Meyer said the Jaguars planned to work out two kickers Monday. Kicker Josh Lambo, after missing his first three field goals in Weeks 1 and 2, missed two of three extra points Sunday. "He's as hard a working – if not the hardest-working – specialist I've ever had, but there's also a reality that you've got to make kicks," Meyer said of Lambo. "Nothing about attitude, nothing about work ethic, but reality is the ball has to go through the uprights."
… Griffin said he covered Cardinals wide receiver DeAndre Hopkins throughout Sunday's loss, marking the first time in five NFL seasons he "followed" a team's No. 1 receiver and covered him the entire game. "It was definitely different," he said, adding with a laugh: "It was a lot easier to study than studying multiple receivers."
… Right tackle Jawaan Taylor said the Jaguars' offensive line played its assignments as assigned on a third-quarter flea-flicker that changed the game's momentum Sunday. Left guard Andrew Norwell spun shortly after the snap, with Cardinals defensive lineman J.J. Watt getting pressure up the middle on quarterback Trevor Lawrence and forcing an interception that Cardinals cornerback Byron Murphy Jr. returned 29 yards for the touchdown that gave Arizona a 24-19 lead. "It's called a whirlybird," Taylor said. "Usually, the whole line is just zone trying to sell the run on the first side, then the back side has to get around to the end and scrape off the edge on the back and try to get the quarterback some protection on the back side." As for Watt disrupting the play, Taylor said: "When you're zoning like, J.J. Watt doesn't really take on contact in the run game. When he felt the run, he usually tries to jump around you or go the opposite direction. That's just J.J. being J.J."