JACKSONVILLE – Jaguars 2022 Training Camp continued Sunday.
It was the sixth day of the first training camp under Head Coach Doug Pederson, featuring a full-pads practice at Episcopal School of Jacksonville Knight Sports Campus. Each day throughout camp, members of Jaguars Media – senior writer John Oehser, senior correspondent Brian Sexton, senior reporter/editor J.P. Shadrick and reporter/host Ashlyn Sullivan – will share an observation.
Here are Sunday's "campservations:"
John Oehser, Jaguars Senior Writer…
Travis Etienne Jr. has been one of the stars of camp – and that continues to be the case. That is good news not just for the second-year running back, but for the Jaguars' offense and quarterback Trevor Lawrence. Etienne, the No. 25 overall selection in the 2021 NFL Draft, missed his rookie regular season with a preseason Lisfranc injury. While there were understandable concerns among observers about Etienne's ability to return from the injury, he looked strong throughout the offseason program and has routinely turned in a highlight play most days of '22 camp. He had a long run up the middle early in practice Sunday, another in a series of runs in camp that have highlighted the speed and suddenness that the Jaguars hope will add a needed big-play element to the offense. "It's exciting to see him and where he has come from, how he has kind of battled to get himself back on the football field," Head Coach Doug Pederson said Sunday. "It appears he hasn't lost the explosiveness, which is good. He's a young player and missed everything last year. It's good to see."
Brian Sexton, Jaguars Senior Correspondent…
A day after catching everything in sight, the Jaguars' receivers were sloppy and dropped way too many passes Sunday. I thought on Saturday we had seen a standard set for Lawrence and his receivers but apparently not. Wide receiver Christian Kirk and tight end Evan Engram on Sunday let catchable passes pass through their fingertips. To be fair, both also made a couple of great catches Sunday. But if the Jaguars are going to be better, they must find a level of consistency – and there is no reason why high-dollar and high-expectation players such as Kirk and Engram should just drop passes. Also: I spent most of practice in one end zone behind the secondary and was impressed with safety Andre Cisco's day. He's a big guy who has great range and on Sunday was really moving to cut off routes and discourage the quarterbacks in the middle of the field. If not for a knee injury his final season at Syracuse, he likely would have been selected earlier than Round 3 in the 2021 NFL Draft. He looked the part on the first day in pads Sunday – a guy who challenges everything that comes into the middle and makes receivers/quarterbacks think twice with his presence.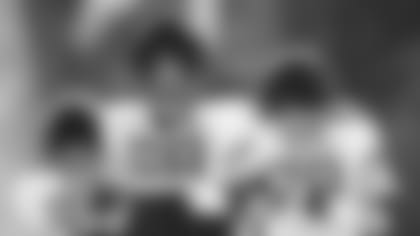 J.P. Shadrick, Jaguars Senior Reporter/Editor …
The intensity ramped up Sunday morning for the first day in full pads and the first o-line vs. d-line drills of camp. All eyes were on No. 1 overall pick Travon Walker, who flashed his athleticism. Left tackle Cam Robinson had a perfect day in the drill and then blew kisses to an imaginary crowd. I also like watching Brandon Scherff go about his business every day. As a perennial Pro Bowl and All-Pro player at right guard, the way he prepares for a season and works is a great example for not only some young offensive linemen but for the entire team.
Ashlyn Sullivan, Jaguars Team Reporter…
The day we have been waiting for!! Yes, full pads, but more so offensive line vs. defensive line. Pederson said in his press conference today we learn a little more from this team when it's in pads. We learned the offensive line can hold its own. I would say the o-linemen were the overall winners in one-on-one drills. Scherff dominated anyone he went up against; no defensive lineman could move him. Robinson is playing with an obvious chip on his shoulder, out to prove he is a league-wide talent at left tackle. During one rep, Robinson made K'Lavon Chaisson slip and was blowing kisses to the media; it was awesome. As a whole, it was an inconsistent day for the offense and Lawrence. In one 11-on-11 period, there were numerous incompletions and penalties on the offense. However, the offense bounced back in a big way during the last 11-on-11 period with Lawrence completing all his passes and having a ton of time to complete his throws thanks to the offensive line.