CINCINNATI, Ohio – Senior writer John Oehser examines five key plays from the Jaguars' 24-21 loss to the Cincinnati Bengals in a 2021 Week 4 game at Paul Brown Stadium in Cincinnati, Ohio, Thursday
1. A few from which to choose. The Jaguars showed enough versatility on their first touchdown drive that it was difficult to choose a single "key play." An 11-yard run by wide receiver/returner Jamal Agnew started the drive, and quarterback Trevor Lawrence turned in a nice 11-yard run for a first down to the Bengals 35. Newly-acquired tight end Dan Arnold made perhaps the key play, catching a 17-yard pass from Lawrence from the Bengals 23 to set up a six-yard touchdown run by second-year running back James Robinson. The touchdown showed Robinson's best traits – next-level vision and cutback ability – with him seeing a hole to his left and cutting for a 7-0 lead with 1:28 remaining in the first quarter. The Jaguars' second touchdown drive was more of the same, with Robinson's 20-yard run to the Bengals 25 the biggest play of a methodical, 12-play, 80-yard drive. Forty-four yards came on Jaguars rushes, with Lawrence capping the drive with a seven-yard run after faking a handoff to Robinson to make it 14-0, Jaguars. "It was just a zone read," Lawrence said. "I felt like I had a good matchup with the D end there. It's something I've done in college that I'm pretty comfortable with and just have a good feel for. I felt I could go one on one with that guy and I could get in." Lawrence was asked if he kept the ball from his first NFL rushing touchdown. "No, I think left tackle] [Cam [Robinson] threw it in the stands. It's all good."
2. Going deep – but coming up short. The Jaguars' biggest play of the game gave them a chance to take a three-score lead, a chance they squandered late in the first half. Lawrence rolled to his right and threw deep to second-year wide receiver Laviska Shenault Jr., who caught the pass for a 52-yard gain to the Bengals 10. The Jaguars moved to the Bengals 1 with a seven-yard pass from Lawrence to Shenault, but Lawrence was stopped short on a fourth-and-goal run from the Bengals 1. That kept the score 14-0 at halftime. "Going in it should have been 21-0," Lawrence said. Head Coach Urban Meyer said he had "no doubt" about going for the touchdown.
3. Going deep – and turning it into points. The Bengals got back into the game quickly in the second half, resetting the game's momentum and cutting the Jaguars' lead in half. The key play on the drive: a 44-yard pass from second-year quarterback Joe Burrow to rookie wide receiver Ja'Marr Chase. Chase beat Jaguars rookie cornerback Tyson Campbell down the left sideline, with Burrow leading him perfectly for a gain to the Jaguars 25. Burrow two plays later faked a handoff to the right, then threw left to tight end C.J. Uzomah – who broke a tackle by Jaguars safety Rayshawn Jenkins near the end zone on the way to a 22-yard touchdown that cut the Jaguars lead to 14-7 with 13:12 remaining in the third quarter. The Bengals maintained momentum and tied the game on the ensuing drive, with Burrow's 25-yard pass to wide receiver Trenton Irwin – again over Campbell – the drive's key play.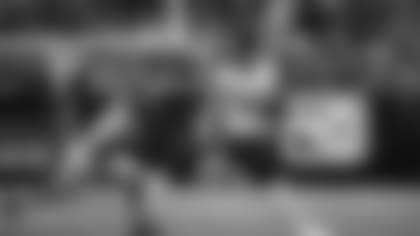 4.Go for it. Lawrence played perhaps the best of his four NFL regular-season games Thursday, completing 17 of 24 passes for 204 yards with no touchdowns. As importantly, he didn't throw an interception for the first time in four games. Lawrence's most impressive play of the game may have come on 2nd-and-6 from the Jaguars 27 with just over four minutes remaining in the third quarter. Cincinnati had taken control of the momentum, but with the score tied 14-14 Lawrence drifted in the pocket to give himself time and threw a beautifully-timed 27-yard pass to wide receiver Jamal Agnew for a first down at the Bengals 46. "It was awesome," Lawrence said of Agnew's reception. Agnew played extensively at receiver for the first time after scoring on 100-yard returns in each of the last two games. "Ags is a great player; he can do anything," Lawrence said. "He's so valuable to have. Whatever the situation is, he's always ready. He can go in and play anywhere." A four-yard run by Robinson capped the drive and tied the game, but Lawrence's pass to Agnew felt like the play of a maturing young quarterback.
5. Holding – and another big play for the tight end.The Jaguars just couldn't get off the field in the second half, as evidenced by 24 points and two touchdown passes allowed. The Bengals' final drive in that sense served as a microcosm of a frustrating game. Two of the biggest plays of that stretch: a holding penalty on Jaguars cornerback Tre Herndon, a play that came on 3rd-and-1 with linebacker Damien Wilson registering a sack. "You've got to have amnesia at that point," Brown said. "You have to forget about it and move onto the next play. It was good momentum, but things happen. You have to roll with the punches." Rather than forcing a Bengals punt, Herndon's hold on Bengals wide receiver Tyler Boyd gave Cincinnati a first down at the Bengals 36. "I thought we were off the field, and they called that holding," Meyer said. "On a sack — wow, that's tough." A short pass from Burrow to Uzomah with 1:09 remaining became a 25-yard catch-and-run gain to the Jaguars 21. Evan McPherson's 35-yard field goal came two plays later on the game's final play and gave Cincinnati the victory.