JACKSONVILLE – Senior writer John Oehser and senior correspondent Brian Sexton offer quick thoughts on the Jaguars as they prepare to play the Detroit Lions in a 2022 Week 13 game at Ford Field in Detroit, Mich., Sunday
John Oehser, Jaguars Senior Writer
Better and better at quarterback. We've discussed the idea here repeatedly this season – that whatever the record, the 2022 Jaguars season will be a success if you're certain by season's end that quarterback Trevor Lawrence will be really good. We're not absolutely there yet, but we're close. Lawrence's numbers have improved throughout the season, and the eye test is more encouraging by the week. That was true even before Lawrence's two fourth-quarter touchdown passes this past Sunday against the Baltimore Ravens produced the most dramatic come-from-behind victory of his 28-game NFL career. Another measure of his progress can be felt when analyzing this week's Jaguars' matchup. Lawrence, the No. 1 overall selection in the 2021 NFL Draft, at some point must be routinely considered the best quarterback on the field in most Jaguars games to fulfill that draft status. Lions quarterback Jared Goff is very good, if perhaps not elite. A few weeks ago, the Jaguars might not generally have been considered to have the quarterback edge in this game. Quite a few more observers likely would give Lawrence the edge after how he has played the past three games with two victories, three games with a passer rating over 100 and no interceptions in that span. And the special plays are coming more frequently, and far outnumbering the bad. That's progress. He's getting there.
More and more pieces. While Lawrence far and away is the most important player for the Jaguars' present and future – and while his development appears to be making that future bright – he's far from the only developmental storyline for this team this season. Another continued to develop against the Ravens with wide receiver Zay Jones' remarkable 11-reception, 145-yard performance. Jones is on pace to push for a 1,000-yard season, giving the Jaguars at least two potential 1,000-yard receivers returning next season – Jones and Christian Kirk – along with a potential 1,000-yard runner in running back Travis Etienne. With a potential No. 1 wide receiver in Calvin Ridley also expected to be added next offseason, that's some significant offensive talent in place around a rapidly improving quarterback. Yes, these players must fulfill that potential, but some very solid pieces are sliding into place in this offense. Stay tuned.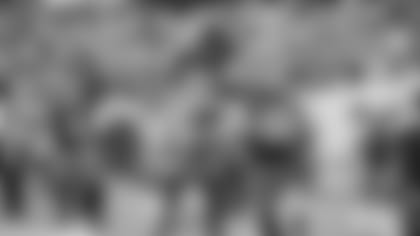 Brian Sexton, Jaguars Senior Correspondent…
Who is next? Zay Jones dramatically elevated his game last week with a career-high 11 catches and career-best 145 yards against the Ravens, who schemed the secondary to make it difficult for Lawrence to connect with Kirk. Now, Zay Jones has been open a lot this season and some of the early lack of production was the quarterback trying to force the ball to Kirk; there were also a few catches Jones could have made. But there is no denying the fastest receiver on the team also runs really well and has dependable hands. So, when they needed him, Zay Jones came up with a career day. You could say the same for running back JaMycal Hasty who also posted a career high with 95 yards from scrimmage Sunday and the first touchdown of his career to give the Jaguars a 7-6 lead. Evan Engram is the most logical candidate for a big-game breakthrough and the tight end has undeniable skills; as Head Coach Doug Pederson said at a press conference last week, they fully intend to get him involved but the game and the gameplan just haven't lined up. He seems primed for more this week, with Jones likely to see more attention. Keep your eye on tight end Dan Arnold as well. He hasn't had the kind of production this season I thought he might. but he is tall and long and was Lawrence's go-to guy for a stretch in 2021 before he hurt his knee. Don't be surprised if he is more involved at some point soon as Pederson and his offensive brain trust look to take advantage of Lawrence's development and give him more options and more weapons to work with.
Sunday is a big game in Detroit and in Jacksonville. The rest of the league will be focused on Kansas City at Cincinnati and San Francisco versus Miami, but they might be missing out on a good one at Ford Field. The Lions have won three of their last four and showed everyone on Thanksgiving Day when they narrowly lost to Buffalo that they're a different team in Year Two with Head Coach Dan Campbell. The Jaguars surprised with the win over the Ravens, but anyone who has watched them knows they're entirely different in Year One with Pederson and are playing with a hot quarterback. Lawrence and Goff have nearly identical numbers this season, as do the teams' running backs and receivers. Their team numbers compare as well with the Lions being the No. 8 offense and the Jaguars at No. 9. Both have defenses that are underperforming; if there is an advantage. it's the Jaguars offense against the No. 32 defense in Detroit. The teams with the worst records in the NFL last season aren't lighting up the standings at 4-7, but they're both playing good football with an outside shot at the playoffs. That makes this a playoff game, which should make it worth watching in Michigan, Florida and everywhere else. There is something exciting about a team on the rise. This game features two.