JACKSONVILLE – Doug Pederson's first Jaguars training camp opened briefly and efficiently.
There was also some short travel involved.
It was a spirited practice – one with no pads – on Day 1 of Jaguars 2022 Training Camp at the Knight Sports Complex at Episcopal School of Jacksonville Monday. The Jaguars practiced from about 8:50 to 10 a.m. in 83-degree temperatures.
"It's exciting; emotions are high," Pederson said shortly before his first training camp practice as the Jaguars' head coach. "We're looking forward to having a really good camp – a good, competitive physical camp. For me personally, it's exciting to be back on the grass with these guys for another training camp and seeing where we go."
Added Pederson, "These guys are in the right frame of mind. They're focused and ready to go."
Trevor Lawrence, entering his second season as the Jaguars' starting quarterback, as expected took all first-team repetitions Monday. He rotated with then-Jaguars quarterback Gardner Minshew II throughout much of '21 training camp.
"Week 1 is just to see the progress we made in (offseason) OTAs," Lawrence said. "We're not starting over. We should be picking up where we left off. Everything we're talking about, we're flying through because we've already installed it a couple of times.
"I thought it was a great day today. Coach did a great job laying out practice – enough work to get us ready but not too much where by next week we'll be full speed. Guys looked sharp. We're ready. We're excited."
With the team still in just helmets and no pads, practice Monday was non-contact. The team conducted a 7-on-7 followed by a team session late in practice.
Pederson spoke with reporters for about 10 minutes early Monday, with Lawrence meeting the media shortly after practice. Coverage of those availabilities can be found later on jaguars.com and Jaguars Media channels.
The team is holding '22 training camp at Episcopal – about a 10-minute drive from TIAA Bank Field – while its new sports performance center is being constructed adjacent to TIAA Bank Field. The center is expected to be complete in time for 2023 training camp.
Pederson praised the practice fields and training camp facilities at Episcopal.
"Seeing it all come together has been fun, to watch the progression of everything," he said.
The Jaguars will practice again at 8:50 a.m. Tuesday, Wednesday and Thursday with a day off scheduled Friday. Practices through Saturday will be non-padded, with the first padded – contact – work expected to be Sunday.
Pederson called this an "acclimation" phase.
"It's just like OTAs," Pederson said. "There's not a lot of physical contact, but it's acclimation of getting back out here on the practice field and running around. The way practices are scheduled from a time standpoint allows the players to build some tolerance in their bodies here in the next couple of days before we put the pads on.
"You're going by the [Collective Bargaining Agreement] and you're going by the rules that are put in place. I want to make the sure the bodies are conditioned and the tolerance has been built before we get into pads. It takes a little time."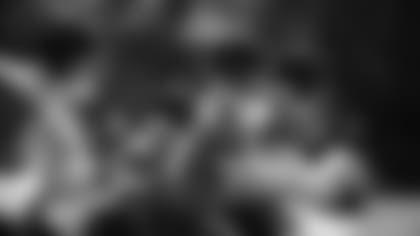 Here's a look at Monday's practice:
PLAY OF THE DAY
Without pads with no contact, and with practice comparatively brief, big plays on Day 1 were few. A highlight came midway through practice when Lawrence found wide receiver Christian Kirk down the left sideline. Kirk, who signed as an unrestricted free agent from Arizona in the offseason, caught the pass and appeared to get his feet down in bounds for a 20-yard gain behind multiple defenders.
STANDING OUT
INJURY WATCH
Jaguars rookie linebacker Devin Lloyd, the No. 27 overall selection in the 2022 NFL Draft, likely will miss time early in camp with a hamstring issue. "Nothing too significant, but we're just going to be cautious with him and give him some time," Pederson said.
NOTABLE
The Jaguars placed no players on the physically unable to perform list to start camp, Pederson said Monday. Running back James Robinson, who is returning from a season-ending Achilles injury sustained last December, will work on the side to begin camp. "James is doing extremely well," Pederson said. "He's going to be out here and over here. We're just going to still take it slow with him and make sure he's 100 percent or better before we put him out on the field. Pederson said the Jaguars remain "hopeful" for a mid-August return. "That's probably the target," he said.
Cornerback Darious Williams (shoulder) also will begin camp working on the side. "You'll see him out here doing some individual work," Pederson said.
Wide receiver Jamal Agnew, who is returning from a season-ending hip injury, will begin camp doing individual work. "We'll take it day by day with him," Pederson said.