JACKSONVILLE – A day after, senior writer John Oehser examines what we learned from the Jaguars' 23-20 victory over the Miami Dolphins in a 2021 Week 6 game at Tottenham Hotspur Stadium in London, England, Sunday …
1. The streak is over. The Jaguars' victory Sunday ended their franchise-record losing streak at 20 games, also marking the first NFL victory for Head Coach Urban Meyer and quarterback Trevor Lawrence. The victory means the Jaguars won't approach the 1976-1977 Tampa Bay Buccaneers' 26-game losing streak, the NFL's longest such streak since the 1970 AFL-NFL Merger. The Chicago Cardinals lost 29 consecutive games from 1942-1945, making the Jaguars' streak the third-longest in NFL history.
2. The kicker may have the "Wright" stuff. Jaguars kicker Matthew Wright's 53-yard field goal on the game's final play won the game. As significant: Wright went 3-for-3 and turned in the best performance of the season in an area that struggled through the first five games. Wright had competed with veteran Josh Lambo in practice the last two weeks. What's next at this spot is a storyline to watch.
3. Lawrence just keeps getting better. Lawrence, the No. 1 overall selection in the 2021 NFL Draft, completed 25 of 41 passes for 319 yards and a touchdown Sunday. This marked his third consecutive game without a meaningful interception and his poise in the final minutes was impressive. "You saw a young quarterback make a big-time play at the biggest time of the game," Meyer said of a nine-yard pass from Lawrence to wide receiver Laviska Shenault Jr. that set up Wright's game-winner. That Lawrence is the real deal gets clearer by the week.
4. Game awareness matters. The nine-yard pass from Lawrence to Shenault long will be remembered – and rightly so. Credit Meyer for going to the play – called slider kill – rather than a Hail Mary from the Dolphins 44. Meyer and Lawrence knew the :05 remaining might not be enough to execute the play – and call the ensuing time out – but it was worth the risk considering the low-percentage nature of the Hail Mary. Credit, too, to Lawrence and Shenault for executing quickly. The high-level awareness set the stage for a memorable victory.
5. The defense played big when it mattered. After allowing 161 yards and 10 points on the first two drives, the Jaguars' defense stiffened Sunday. Particularly impressive: the last two drives, on which the defense forced a punt and forced a turnover on downs with the game on the line.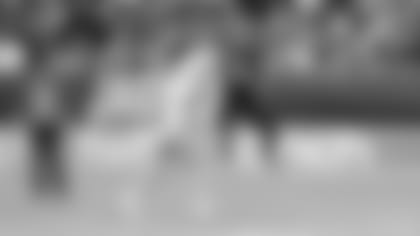 6. Belief remains strong. The Jaguars trailed 7-0, 13-3 and 20-17 Sunday and rallied each time. They trailed by three points with less than four minutes remaining and – despite having lost 20 consecutive games – continued to play hard and won. This team clearly still believes in its direction.
7. Agnew can play receiver. wide receiver/returner Jamal Agnew, who had 100-yard-plus returns for touchdowns in Weeks 2 and 3, had five receptions for 78 yards Sunday. He's proving more each week he can contribute beyond special teams.
8. Covering the tight end remains an issue. No Dolphins receiver hurt the Jaguars Sunday like tight end Mike Gesicki. He caught eight passes for 115 yards, with tight end Durham Smythe adding five receptions for 59 yards.
9. Drops also remain an issue. Tight end Dan Arnold had a key drop that cost the Jaguars a first down; they settled for a first-quarter field goal. Shenault also dropped a catchable pass that could have turned a third-and-15 in the second quarter into a first down. Such key errors at key times that have cost the Jaguars too often early this season. "If that's one of the problems, then we'll be solid working through it," wide receiver Marvin Jones Jr. said.
10. J-Rob remains the Jaguars' most reliable offensive player. The Dolphins defended Jaguars running back James Robinson well much of the game and the second-year veteran still managed a very productive 4.3-yards per carry. He finished with 73 yards on 17 carries and got stronger as the game continued with a 10-carry, 51-yard second half.
11. Plays were made late. One reason the Jaguars hadn't won this season: players weren't making enough key plays in key situations. That changed in big way Sunday, with one of the plays coming from defensive end/linebacker Josh Allen – who disrupted a fourth-and-1 run by Dolphins running back Malcolm Brown to force no gain from the Dolphins 46. That gave the Jaguars possession there, leading to a short drive for the game-winning field goal. "Oh, Lord, it felt great," Allen said.
12. The O-Line is limping. The offensive line entered the game injured, a situation that worsened when right guard Ben Bartch left with a second-quarter concussion. With Week 1 starting right guard A.J. Cann already out with a knee injury, Will Richardson Jr. became the Jaguars' third right guard this season. Center Tyler Shatley also started for starter Brandon Linder Sunday. "We've got to get our guys back," Meyer said.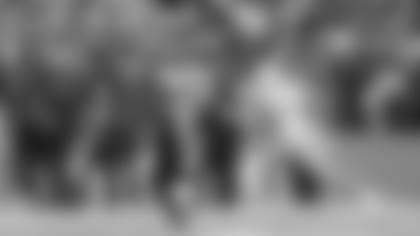 13. Shenault deserves credit … Shenault caught six passes for 54 yards, but his impact went beyond statistics. He wrestled his way to a first down with a seven-yard reception on fourth-and-6 to set up a second-quarter touchdown. He also made a nice play on the slider kill, not only getting the first down on fourth-and-8 but getting down quickly enough to call the timeout. Without Shenault getting an extra yard on those two plays, Sunday's outcome is likely different.
14. … and so does Jones. The big-time rapport Jones has had with Lawrence since training camp showed again Sunday with seven receptions for 100 yards. He not only had a 28-yard touchdown reception to pull the Jaguars within 13-10 late in the first half, his 20-yard reception set up Wright's game-tying 54-yard field goal with 3:40 remaining.