Etienne, the former first-round pick who missed his entire 2021 rookie season with a broken foot, almost always smiles. But after Etienne returned to football in the Jaguars' 2022 preseason home opener Friday, a lot of people were smiling when discussing Etienne. Among them:
"It felt great to be out there with him," Lawrence said after the Jaguars' 24-13 loss to the Cleveland Browns in a 2022 Preseason Week 1 game at TIAA Bank Field Friday. "It's obviously the first time since that New Orleans game last year. To be back with him and to work the whole off-season, OTAs, camp all that and to finally get to play together tonight was great.
"I thought he did a great job, it was a good night."
Numbers don't tell the story of Etienne's story from Friday. He finished with a pedestrian 2.6 yards per carry average against the Browns. But on his first carry, he exploded through the offensive line for a 12-yard gain and showed everyone – including Etienne – that the foot is just fine.
"I've reached the point where I don't panic about it," he said with his trademark smile. "That's just my nature. I'm all go whatever I do, so when I'm out there playing football I can't be worrying about my foot.
"I have other things to worry about. I was just trying to be the hammer and not the nail. There's lots I have to work on, but it felt great to be out there."
Jaguars Head Coach Pederson challenged his team with a live practice session on the Sunday before the Browns game. He wasn't happy with the way the defense in particular failed to control the line of scrimmage in the run game against the Las Vegas Raiders at the Hall of Fame game the previous week.
Friday night was a different story. The Browns' first-team offense produced just seven rushing and the Jaguars' pass rush forced Cleveland quarterback Deshaun Watson to make decisions quicker than he wanted, resulting in one completion for only 7 yards.
"How many yards did they have?" Jaguars inside linebacker Foye Oluokun asked. "It wasn't a lot. I liked our energy tonight. I thought everyone came out with good energy. We can build off that and we need that energy to get to the football on defense. That's the way we want to play defense right there."
Nose tackle DaVon Hamilton drove center Nick Harris off the ball on the first play Friday, then Roy Robertson-Harris collapsed the right side of the Browns offensive line and tackled D'Ernest Brown for no gain. Jaguars outside linebackers Josh Allen and Travon Walker pushed the pocket on the ensuing play, and safety Rayshawn Jenkins forced a fumble that cornerback Shaq Griffin recovered at the Cleveland 21-yard line. It was an impressive performance and one that the head coach needed to see.
"I thought they did a nice job, especially early, of putting pressure on Deshaun," he said. "The front seven, I think are going to be really good and I think our third-down pass rush has a chance to be special but we still have some work to do before we get to the season."
Said Oluokun, "I want to watch the tape and assess myself and be very critical of myself. I want to have another good year personally, but I also want this team to play as well as we possibly can and we'll be critical with each other about what we see on the film. And then we'll move forward to the next preseason game and use this to keep building for the regular season."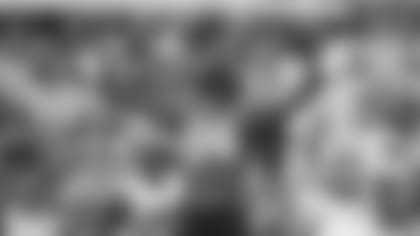 Jaguars wide receiver Zay Jones on the TIAA Bank Field gameday experience: "I didn't really know what to expect. I told [wide receiver] Christian [Kirk] as we were standing on the sideline that it looks like a different stadium than when we were out here for OTAs [in the offseason] because it was empty. There was an atmosphere with the fans and all the things going on. I was appreciative of the crowd and hopefully this fan base just gets stronger. We want them to keep bringing the energy and we'll keep bringing the energy and life this city."
Oluokun: "We wanted to come out with a better product this week. The coaches definitely put that pressure on us, and I think we responded well."
Tight end Evan Engram: "Everybody is new to this offense, so we've been working on the practice field and getting the kinks out. Guys are starting to get comfortable, starting to gain confidence and learning all the material. For us to get it this kind of work in a game like situation was good for us and we can build on this."