JACKSONVILLE – Seven Jaguars experts – Rick Ballou, Frank Frangie, Brent Martineau, John Oehser, Brian Sexton, J.P. Shadrick and Ashlyn Sullivan – are breaking down the Jaguars as the 2022 NFL season approaches; today: the position group that must improve the most in '22 …
Rick Ballou, Jaguars sideline reporter
Jaguars position group that must improve the most: Offensive line. Adding right guard Brandon Scherff will help, as Jacksonville needs to protect quarterback Trevor Lawrence. The Jaguars have drafted three offensive linemen in the last three drafts. Will all three – guard Ben Bartch, right tackle Walker Little and center/guard Luke Fortner – start this year? Building around these three on rookie contracts would be a great thing.
Frank Frangie, Radio Voice of the Jaguars
Jaguars position group that must improve the most: The Jaguars need the offseason influx of receivers to make a difference: wide receivers, tight ends, etc. That has been a really weak area recently. I have a good feeling about the new-look rooms – particularly wide receiver Christian Kirk and tight end Evan Engram, but others, too. The Jaguars have to be better there.
Brent Martineau, Action Sports Jax Sports Director
Jaguars position group that must improve the most: Safety. Rashawn Jenkins is coming off an injury and wasn't playing to his contract last year when healthy. Andre Cisco is still an unknown because of lack of playing time as a rookie last season. It's the last line of defense for the Jaguars and we don't have a good feel on what to expect. I'm bullish on the Jaguars defense, but safety play is an area that needs improvement by fall.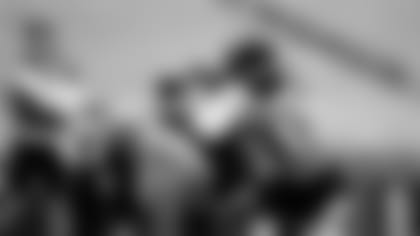 John Oehser, jaguars.com senior writer
Jaguars position group that must improve the most: Quarterback. The Jaguars have won four games over the past two seasons, so the reality is most positions need to improve. That's true of wide receiver, offensive line, outside linebacker and an inside linebacker group that underwent an offseason overhaul. But Lawrence was the most important story of the offseason, and he will be the most important story of the 2022 season. If he improves in Head Coach Doug Pederson's scheme under first-year coordinator Press Taylor, then he and the Jaguars have a bright future. If he doesn't, next offseason will feature a lot of questions and uncertainty.
Brian Sexton, jaguars.com senior correspondent
Jaguars position group that must improve the most: Tight end. This area must be more of a factor in 2022. It's a group with talent, so it should be better. But when you're looking for a mismatch in the passing game, it's going to have to come from the tight ends because the receivers aren't oversized or blazing fast. Engram would be a big receiver or a fast tight end, which puts him squarely in the role of being Alshon Jeffrey in this offense. If you watched Pederson's Eagles in 2017, you know it was Jeffrey – who is roughly the same size and athlete that Engram is – who made plays in big moments. Engram is a smooth route runner who – despite a reputation for inconsistent hands – looked good when the ball came his way this spring. He's a terrific athlete – and if he can lead the way, then perhaps Dan Arnold can use his size and deceptive speed to win one-on-one matchups that weren't there for him last season. Engram is the key, which figures since he is the highest paid in the room. But if he plays to his talent level, he'll dramatically improve the tight end group as a whole.
J.P. Shadrick, jaguars.com senior reporter/editor
Jaguars position group that must improve the most: Outside linebacker. Josh Allen enters his fourth NFL season with a refreshed outlook and trying to get back to the Pro Bowl form from his 2019 rookie season. He also has a new running mate in Travon Walker, the No. 1 overall pick in the 2022 NFL Draft who could help balance it out. They are still looking for more production out of former first-round pick K'Lavon Chaisson, but he has the physical tools to do the job.
Ashlyn Sullivan, Digital reporter and host
Jaguars position group that must improve the most: Wide receiver. Whatever the week last season, win or lose, we continuously spoke about the lack of explosive plays. The dropped balls and overall lack of impact the Jaguars receivers had on the game was always a topic. Now … I do think they are already better. Signing Kirk and Zay Jones in free agency will take attention off Marvin Jr. Jones, who was really the only "threat" defenders had to pay attention to in 2021. Kirk, Zay Jones and Marvin Jones are your three receivers; seeing where Laviska Shenault Jr. fits will be a major storyline in training camp.