JACKSONVILLE – The pads stayed off, and the heat stayed strong.
Those were two traits of Day 3 of Jaguars 2022 Training Camp, a day featuring no contact during practice and some thoughts from Press Taylor early in the morning.
Taylor, in his first season as the Jaguars' offensive coordinator, said he likes how offensive players have responded early in camp – and that he very definitely likes the offensive personnel entering camp.
"We're really excited about the talent and the type of team we have," Taylor said. "It's our job as coaches to utilize the type of team we have."
Jaguars quarterback Trevor Lawrence had a second consecutive strong day Wednesday. A day after throwing just one incomplete pass during 11-on-11 and seven-on-seven work, Lawrence had multiple passes defensed Wednesday – including two by second-year cornerback Tyson Campbell – but he remained accurate and confident with several highlight moments.
"Really, the biggest thing is consistent improvement," Taylor said Lawrence, the No. 1 overall selection in the 2021 NFL Draft. "That's not always going to show up on the stat sheet if you're statting practice. He's taking the coaching to the field and he's getting better. That's really all we're looking for at this point.
"We see progress every single day with him."
Taylor said the offense installed about 90 percent of the playbook during the offseason and has reintroduced about 30 percent early in camp.
"We're working our way through it," Taylor said. "They're responsible for what they learned in the spring, so we do go quicker through these install meetings."
With Taylor speaking to the media before practice Wednesday, rookie outside linebacker Travon Walker – the No. 1 overall selection in the 2022 NFL Draft – spoke after practice. Coverage of those availabilities can be seen Wednesday on jaguars.com and Jaguars Media channels.
The Jaguars will practice again at 8:50 a.m. Thursday with a day off scheduled Friday. The first full-pads practice of '22 camp is scheduled Sunday, with all practices closed to the public. The Jaguars are practicing on the Episcopal sports campus while construction continues on their sports performance facility adjacent to TIAA Bank Field.
That facility is projected to be complete by 2023 training camp.
The Jaguars worked Wednesday in temperatures that reached 86 degrees and felt in the low 90s. They worked in shorts and helmets with no full pads for a third consecutive day under league rules.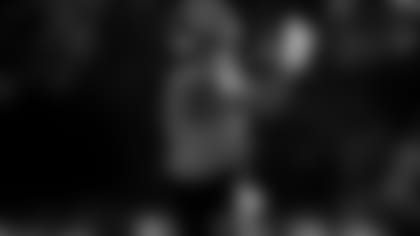 Here's a look at Wednesday's practice:
This came from wide receiver Zay Jones. During an 11-on-11 drill midway through practice, Jones – who signed as an unrestricted free agent from the Las Vegas Raiders this past March – caught a hard pass from Lawrence. Two defenders collided in front of Jones, who adjusted to the situation and made the reception for a long gain. Jones has been impressive early in camp, showing speed and an ability to get deep and to get open consistently underneath.
Running back Travis Etienne Jr., who has stood out early in camp, continued to do Wednesday. He is showing confidence after returning this past offseason from a Lisfranc injury that cost him his 2021 rookie season, and he is showing no aftereffects of that injury. He had one of his most impressive runs Wednesday, a quick run around the left side on which he outran the defense for a long gain. …
Lawrence started early 11-on-11 work hot, completing his first four passes on short and intermediate routes. …
Lawrence had a big-time throw to a double-covered tight end, Dan Arnold, for a 20-yard gain in 11-on-11 work. …
Rookie defensive back Benjie Franklin nearly had an interception in early 11-on-11 work. …
Running back Ryquell Armstead continued to look impressive early with a long run over the right side in 11-on-11 work. …
Quarterback Jake Luton had a nice pass for a long gain to wide receiver Jeff Cotton Jr. on a play-action play in 11-on-11 work. …
Campbell had two pass breakups on passes by Lawrence. …
Veteran safety Rayshawn Jenkins had a pass breakup. …
Rookie linebacker Devin Lloyd, the No. 1 overall selection in the 2022 NFL Draft, remained out of practice with a hamstring injury to start camp. Running back James Robinson (Achilles) and cornerback Darious Williams (shoulder) continued to work limited.
Rookie Luke Fortner worked with the starters at center for a third consecutive day to start camp, with veteran Tyler Shatley working at left guard. "Obviously, he hasn't seen a lot of the packages that you're going to see in an NFL game," Taylor said of Fortner. "It's just a process of getting introduced to all of that, what the communication is like. We're doing our best to try to challenge those guys." Shatley had started extensively in place of Brandon Linder at center at times in recent seasons.
Second-year veteran Walker Little and fourth-year veteran Jawaan Taylor continued to rotate with the first team at right tackle. "It's going to be an ongoing process of finding the best five," Taylor said. "We're going to continue to work with guys. You may see a guy starting one day and somebody else starting a period that day. It's going to be a fluid process. We're fortunate that we don't have to release a depth chart right now. We're still in the process of figuring who our best five are."