JACKSONVILLE – So far, so good.
The Jaguars held Day 4 of 2022 Training Camp Thursday, with Head Coach Doug Pederson speaking to the media for the first time since camp began. A topic, unsurprisingly, was quarterback Trevor Lawrence. Pederson praised Lawrence.
Considering how Lawrence has looked early in camp, that wasn't surprising either.
"He's in a good place; it's still early in camp, but we like where he's headed," Pederson said before Thursday morning's practice at Knight Sports Campus of Episcopal School of Jacksonville. "He has looked sharp. He has looked crisp.
"He sees the field right now. He's commanding the offense."
Lawrence, the No. 1 overall selection in the 2021 NFL Draft, had a near-perfect day Tuesday and another sharp day Wednesday. Thursday's Day 4 work featured extensive red-zone work, with observers reporting four touchdown passes and an interception in that period.
Lawrence capped a red-zone period in which the offense struggled at times with a rollout touchdown run followed by a three-yard touchdown pass on a slant route to wide receiver Christian Kirk.
"The tough thing about the red zone is the field is condensed," Kirk said. "It's hard down there in the league and just in general. You have to be on point with your landmarks and your fundamentals and be disciplined within the play call. Offensively, we struggled a little bit.
"But that's some of the adversity we're going to face all training camp and throughout the season."
With Pederson speaking before practice Thursday, Kirk – who signed with the Jaguars as an unrestricted free agent – spoke after practice. Coverage of those availabilities can be seen Wednesday on jaguars.com and Jaguars Media channels.
The Jaguars will practice again at 8:50 a.m. Saturday with a day off scheduled Friday. The first full-pads practice of '22 camp is scheduled for Sunday, with all practices closed to the public. The Jaguars are practicing on the Episcopal sports campus while construction continues on their sports performance facility adjacent to TIAA Bank Field. That facility is projected to be complete by 2023 training camp.
The Jaguars on Thursday practiced in temperatures that reached 85 degrees and felt like 95. They worked in shorts and helmets with no full pads – and without contact – for a fourth consecutive day under league rules.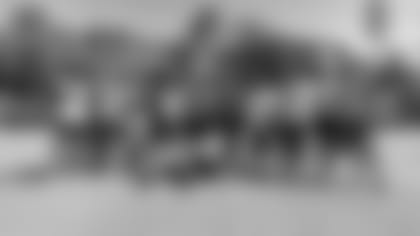 Here's a look at Thursday's practice:
PLAY OF THE DAY
Veteran cornerback Shaquill Griffin had the play of the day Thursday. A pass from Lawrence went in and out of the arms of tight end Evan Engram in the middle of the end zone, tipped in the air and Griffin dove to get his arms underneath the ball for an interception.
STANDING OUT
Thursday was mainly a red-zone day, with the defense leading the way. Linebacker Foye Oluokun and Tyrell Adams and cornerbacks Tre Herndon and Benjie Franklin had passes defensed in or near the end zone.
In the field-goal kicking battle, third-year veteran Ryan Santoso made four of four field goals from varying distances while rookie Andrew Mevis made one out of four from the same spots. Mevis missed all three to the right.
In a team period, running back Ryquell Armstead ran left and turned the corner for about a 20-yard gain.
QUOTABLE
Pederson on the 2022 rookie class thus far: "These guys are doing really well. It's still early in camp. Today is Day 4, obviously, but we're pleased with where they're at. They're improving every single day. These games coming up are going to be another benchmark for them to take a step in the direction we need them to go."
INJURY WATCH
Rookie linebacker Devin Lloyd, the No. 1 overall selection in the 2022 NFL Draft, remained out of practice with a hamstring injury to start camp. "He's doing well," Pederson said of Lloyd. "He's still going to be day to day. We just want to give him time. With those injuries, you just don't want to rush him back. He's the type of guy who's going to do the right things off the field from a mental standpoint with the defense. We're going to give him as much time as he needs." Pederson said third-year veteran Shaq Quarterman has performed well in Lloyd's absence, as has rookie third-round selection Chad Muma. Running back James Robinson (Achilles) and cornerback Darious Williams (shoulder) continued to work limited.
NOTABLE
Pederson said backup quarterback C.J. Beathard remains day-to-day as camp begins after sustaining a groin injury during offseason organized team activities. "CJ's doing well," Pederson said. "It's kind of day to day right now with him. We're going to go cautious. He's obviously throwing in some of the drill work we're doing. We just want to protect him right now, but any day we could see him back out."
Right tackle Jawaan Taylor was held off to the side Thursday, and second-year tackle Walker Little took all the first-team snaps.