JACKSONVILLE – The pads stayed on, and the intensity increased.
It's game week around the Jaguars – "preseason" game week, anyway – and Monday's Day 7 practice marked the second consecutive day of full padded work at Jaguars 2022 Training Camp.
That gave Monday a decidedly energetic feel.
But with the Jaguars' preseason opener days away, one of the team's most-vocal leaders said Monday he's not overly concerned about playing time this week.
"We get that third preseason game where we kind of get a half; I feel like that's more than enough," Jaguars cornerback Shaq Griffin said shortly after a one-hour, 55-minute practice in 86-degree temperatures that felt like 94 at Episcopal School of Jacksonville's Knight Sports Campus.
Griffin said he expects to perhaps play a series Thursday when the Jaguars play the Las Vegas Raiders in the Pro Football Hall of Fame Game in Canton, Ohio.
"We're still getting into the conversation of who's going to play, and how much everybody's going to play and what we want to do from that standpoint," Taylor said before practice Monday.
"We have our list of questions. We want to see how these guys do in certain situations. You're kind of walking a fine line. Obviously, we want to give our guys enough chances to make plays and do things well. Maybe you want to see a guy in this situation. Can he do it against somebody he doesn't know?
"You're kind of massaging every little situation to get as many answers as you can on all these guys, and give them the best chance to play well."
Monday's practice, the longest of '22 camp, had a competitive feel featuring full-field 11-on-11 work, red-zone drills and extensive one-on-one pass rush featuring offensive versus defensive line.
The Jaguars are practicing on the Episcopal sports campus while construction continues on the Miller Electric Center adjacent to TIAA Bank Field. That facility is projected to be complete by 2023 training camp.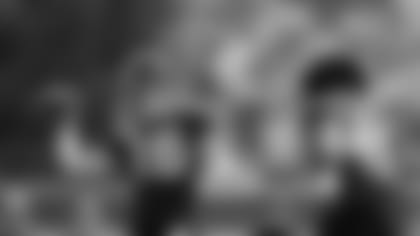 Here's a look at Monday's practice:
In a red-zone situation, facing third-and-4 from the six-yard line, Lawrence rolled right then at the last moment threw off his back foot to the back line of the end zone, where Engram made a leaping catch through at least two defenders and came down with two feet in bounds for a touchdown.
On the first 11-on-11 snap of the day, rookie outside linebacker Travon Walker batted down a pass by Lawrence – the second consecutive day the No. 1 overall selection in the 2022 NFL Draft has had a pass defensed. …
Kirk caught a pass in the left flat from Lawrence, then turned the corner and ran up the left sideline for about a 40-yard gain. Later in red-zone work, Kirk made a catch in the back-right corner of the end zone, tapping both toes inches inside the boundary for a score. …
Conner followed the blocking of the second-team offensive line and over left guard found a hole for a 15-yard burst. On another play, Conner cut right around the right tackle for 15 yards before safety Andrew Wingard made the stop with an emphatic "thud" technique. …
In second-team red-zone work, safety Rudy Ford picked off a pass from reserve quarterback Jake Luton in the left side of the end zone and ran out of bounds for a touchback. …
In one-on-one pass rush drills, left tackle Cam Robinson stopped outside linebacker K'Lavon Chaisson in two consecutive rushes. At right tackle, Walker Little forced Travon Walker around the outside of the quarterback twice for offensive line wins. …
The first skirmish of training camp occurred Monday after wide receiver Zay Jones and cornerback Tre Herndon went through the sideline and to the ground at the end of a play. A scrum formed around them, but cooler heads prevailed and practice continued.