JACKSONVILLE – The 2022 offseason program is behind us.
We'll move forward following the offseason program by examining the Jaguars' offense, which ranked 27th in the league in total yards and 32nd in points in 2021. Here's a position-by-position look:
Quarterbacks (4):
2021 starter on roster: Trevor Lawrence (17)
Others on roster: C.J. Beathard, Jake Luton, EJ Perry
Offseason acquisitions: Luton (signed in February), Perry (collegiate free agent following 2022 NFL Draft)
Starters/contributors departed: None
Offseason assessment: The Jaguars made no headline moves here, with their major story this offseason – and for the foreseeable future – being Lawrence's development. The No. 1 overall selection in the 2021 NFL Draft threw 12 touchdowns and 17 interceptions as a rookie, and how he develops likely will shape the franchise next season and for at least the next half-decade. Head Coach Doug Pederson throughout the offseason praised Lawrence, and following 2022 Organized Team Activities discussed again Lawrence's handling of multiple off-field issues surrounding the organization last season:
"It's a lot to put on a first-year, first-time rookie quarterback. How he kind of came through it and stood tall and really took a lot of bullets and really did a great job of handling all that … I think that's just going to make him that much more special as we go, the fact that he's been able to handle that early on in his career. You don't see that very often in the league. I know sometimes teams go through some tough stretches and all that, but this was a little bit different. I do think he's going to be better for it and I do think we've already seen that this spring."
The Jaguars have surrounded Lawrence with three coaches with NFL offensive coordinator experience – Pederson, quarterbacks coach Mike McCoy and passing-game coordinator Jim Bob Cooter – in addition to first-year offensive coordinator Press Taylor. All indications throughout the offseason were the coaches were in synch offensively and with Lawrence. Pederson seemed please throughout the offseason with Lawrence's development and grasp of the offense, and Lawrence – who looked comfortable and confident in non-padded Organized Team Activities practices – said he likes the coaching approach. So far, so good here.
An area to watch: Beathard's return from a groin injury sustained late in OTAs. The injury is not expected to require surgery and Beathard is expected to participate in training camp.
Running backs (6):
Offseason assessment: The major storyline remains the return of Robinson and Etienne from major injuries sustained last season. Etienne missed the entire regular season with a preseason Lisfranc injury and Robinson missed the last two games of the season with an Achilles injury. Etienne participated in the offseason program and showed no obvious aftereffects of the injury, with Pederson and Robinson saying they expect Robinson to return in training camp. If Etienne and Robinson are both healthy, this position is a strength; the pair should complement one another nicely with Robinson a productive between-the-tackles runner and Etienne capable of scoring from anywhere as a receiver and a runner. The major offseason moves: Releasing Hyde and drafting Conner, with Conner expected to be able to play an every-down runner role – particularly if either Etienne or Robinson is unavailable. A key storyline to watch: How the Jaguars use Etienne's versatility and playmaking ability.
"Whatever's going to give us the best opportunity to put Travis in positions to succeed is what we're going to do, whether that's him as a receiver coming in the backfield or as a running back leaving the backfield to be a receiver," Taylor said following OTAS. "Whatever that may be, I think that kind of evolves as the season goes or week by week even really." Taylor added: "The speed's real. He did a good job of showing understanding of the different roles we're trying to see. We're throwing him in all different positions to see what he's comfortable with, what he needs to work on as we move forward. He's shown an ability to grasp a lot of different things and show that he's capable of doing things."
Wide receivers (13)
2021 starters on roster: Marvin Jones Jr. (16), Laviska Shenault Jr. (10), Laquon Treadwell (7), Jamal Agnew (2)
Others on roster: Christian Kirk, Zay Jones, Jeff Cotton Jr., Tim Jones, Willie Johnson, Kevin Austin Jr., Marvin Hall, Ryan McDaniel, Lujuan Winningham
Offseason acquisitions: Kirk (unrestricted free agent, Arizona Cardinals), Jones (UFA, Las Vegas Raiders), Austin (collegiate free agent following '22 draft), Hall (signed as free agent after attending rookie minicamp as tryout player), McDaniel (collegiate free agent following '22 draft), Johnson (signed as free agent after attending rookie minicamp as tryout player), Winningham (collegiate free agent following '22 draft)
Starters departed: DJ Chark Jr. (signed with Detroit Lions), Tavon Austin (free agent)
Offseason assessment: The Jaguars overhauled this position, signing Kirk and Jones in first-tier unrestricted free agency while allowing Chark – a Pro Bowl selection following the 2019 season – to leave. This figures to be a major area of focus among observers in 2021 – in part because the position struggled last season and in part because the receiving corps does not include what observers see as a True No. 1 outside receiver. What the group does have is multiple players capable of playing multiple positions, with Marvin Jones Jr., Zay Jones and Kirk figuring to be the three main receivers in many primary offensive packages.
"There's a lot of different pieces in that room that can do a lot of different things," Taylor said, adding of Kirk: "He has the ability to align all over based on what we need. It's about putting our guys in position to do what they do well. If there's a matchup, a play, a situation where he needs to be an outside receiver, he has the skillset to do it. If he needs to align in the slot because that's what best suits what we're trying to do or accomplish on that play or that week, he has the ability to do it. He has the mental flexibility to where if we need to move him in the game, he can handle all that. That's a really valuable asset that we put a premium on with him and that's kind of why he was targeted as one of the guys we wanted to get and bring in."
Players to watch include Shenault and Agnew. Shenault, a second-round selection in the 2020 NFL Draft, has the physicality to make plays after the catch and line up in the backfield; Agnew, an elite-level returner, progressed as a receiver in 2022 and his speed makes him a threat at times offensively.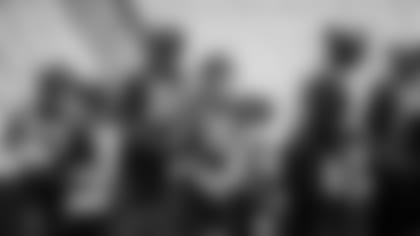 Tight ends (7)
2021 starters on roster: Dan Arnold (3), Chris Manhertz (10), Luke Farrell (4)
Others on roster: Evan Engram, Naz Bohannon, Grayson Gunter, Gerrit Prince
Offseason acquisitions: Engram (unrestricted free agent, New York Giants), Bohannon (signed as free agent after attending rookie minicamp as tryout player), Gunter (collegiate free agent following '22 draft), Prince (collegiate free agent following '22 draft)
Starters departed: James O'Shaughnessy (signed with Chicago Bears), Jacob Hollister (signed with Raiders)
Offseason assessment: This position has undergone major transformation in recent seasons, with perhaps the most notable recent acquisition signing Engram as an unrestricted free agent in March. Engram and Arnold – acquired in a trade with the Carolina Panthers in September 2021 – could give the Jaguars their most capable tight end receiving combination in recent memory. Engram, a first-round selection in the 2017 NFL Draft by the Giants is capable of lining up all over the offense, and he and Arnold could flourish in Pederson's offensive scheme – which has a reputation for utilizing the position effectively.
"You're always looking for matchups, so if we can get a guy that we can find a guy with lesser speed to match up with Evan we're looking to do that," Taylor said. "Obviously, Evan's a great speed threat for a tight end position and then he has a certain knack. He has a different skillset in his body than some other guys typically do at the tight end spot. It's on us to try to put him in those positions where he can maximize his abilities."
Manhertz, who signed as an unrestricted free agent from the Carolina Panthers, gives the Jaguars an effective run blocker. Bohannon, Gunter and Prince all flashed at times during OTAS. It wouldn't be surprising to see a player (or players) from that group developing on the practice squad next season.
Offensive line (15)
2021 starters on roster: LT Cam Robinson (14), LT Walker Little (3), C Tyler Shatley (8), RG Ben Bartch (11), RG Will Richardson Jr. (2), RG KC McDermott (1), RT Jawaan Taylor (17)
Others on roster: Brandon Scherff, Luke Fortner, Coy Cronk, Jared Hocker, Badara Traore, Wes Martin, Denzel Okafor, Nick Ford
Offseason acquisitions: Scherff (unrestricted free agent, Washington Commanders), Fortner (NFL Draft, Round 3)
Starters departed: LG Andrew Norwell (signed with Commanders), C Brandon Linder (retired), RG A.J. Cann (signed with Texans)
Offseason assessment: This area underwent significant change and will be a major storyline during 2022 Training Camp with just two starting positions – Robinson at left tackle and Scherff at right guard –solidified after OTAs. The Jaguars have capable players competing at the other positions, with right tackle and center the likeliest significant training camp battles. Little and Taylor will compete at right tackle, with Taylor having started all 49 career games there; Little, a second-round selection in the 2021 NFL Draft, performed capably last season in three starts at left tackle.
"It's going to be good competition come training camp I think when we put the pads on," Pederson said of right tackle. "Both guys have performed well. They've really taken on this challenge. They know that they're going to be in a battle. We used them both on the right side, the left side, and got them some valuable reps there. It'll be good competition as we head into camp and as we get deeper into camp to see where this thing falls out."
With Linder having retired after eight NFL seasons – the last five as a Jaguars captain – Shatley and Fortner will compete at center, with both having the ability to play guard and center. Bartch is the likely starter at right guard, but multiple players from the Taylor/Fortner/Shatley/Little group could move to guard.