JACKSONVILLE – The 2022 offseason program is behind us.
We'll move forward following the offseason program by examining the Jaguars' defense, which ranked 20th in the NFL in total yards allowed and 28th in points allowed in 2021. Here's a position-by-position look:
Defensive tackles/nose tackles/defensive ends (10)
2021 starters on roster: DT Malcom Brown (17), NT DaVon Hamilton (8), DE Roy Robertson-Harris (14), Adam Gotsis (3)
Others on roster: Foley Fatukasi, Arden Key, Jay Tufele, Jeremiah Ledbetter, Raequan Williams, Israel Antwine
Offseason acquisitions: Fatukasi (unrestricted free agent, New York Jets), Key (unrestricted free agent, San Francisco 49ers), Williams (free agent), Antwine (collegiate free agent following the 2022 NFL Draft)
Starters/contributors departed: Taven Bryan (signed with the Cleveland Browns)
Offseason assessment: The Jaguars in a sense stayed the same here, returning the core of an interior line that helped the run defense improve in 2021 – and also re-signing Gotsis, who in two seasons with the team has been an underrated and effective interior rusher. But the Jaguars didn't stay the same everywhere on the interior, making a major move in mid-March by signing of Fatukasi – one of unrestricted free agency's top run-defending interior linemen. The Jaguars also signed Key in the second wave of unrestricted free agency in late March; he was second on the 49ers with 6.5 sacks last season, and should add depth and disruption to the interior pass rush. Brown last season was a reliable inside presence after being acquired in a trade with New Orleans, and Robertson-Harris improved as the season continued after an early-season ankle injury. The Jaguars' defensive interior improved modestly last season, playing well at times against the run and also having too many lapses in the area. It needs Fatukasi and Key to add stoutness and disruption to be a team strength. And the Jaguars very definitely need the group to be a strength.
Defensive ends/outside linebackers (9)
2021 starters on roster: Josh Allen (15), K'Lavon Chaisson (8), Dawuane Smoot (10)
Others on roster: Travon Walker, Jordan Smith (injured reserve), De'Shaan Dixon, Jamir Jones, Wyatt Ray, Rashod Berry
Offseason acquisitions: Walker (NFL Draft, Round 1), Dixon (collegiate free agent following the '22 draft), Ray (free agent)
Starters/contributors departed: Jihad Ward (New York Giants), Lerentee McCray (free agent)
Offseason assessment: The Jaguars made just one significant move here – but it was really significant, selecting Walker No. 1 overall in the 2022 NFL Draft. Walker is a versatile player with a unique skill set, and he will begin his career focusing solely on outside linebacker.
"We are trying to get him comfortable," defensive coordinator Mike Caldwell said. "We just want him to go out there and play. Once he is playing, we will be able to adjust what we do with him." Caldwell added, "His height, his weight, his speed – it's like a unicorn. He is unique. He plays that way and you see it on tape. You see the burst, you see the speed, you see the moves he has. We are excited about him and I think he will be ready to roll. He can play other positions, but his home for us is outside linebacker where we see him being a force. We are going to try to mold him and let him take off and go."
Walker is expected to start opposite Allen, who registered 7.5 sacks with 14 pressures last season – and the pair of Top 10 overall talents could form a dynamic and disruptive duo outside. Smoot remains one of the Jaguars' most underrated players and can play multiple positions across the defensive front; he has registered 17.5 sacks the last two seasons, including a career-high six in 2021. A major storyline here is Chaisson, the No. 20 overall selection in the 2020 NFL Draft. While Chaisson has just two sacks in his NFL career, coaches have spoken highly of his approach this offseason; the Jaguars need him to be a more impactful player than he was in his first two seasons.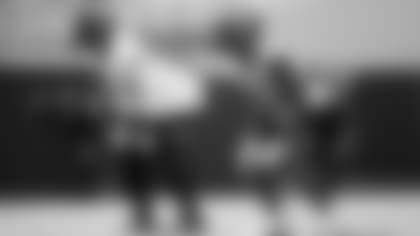 Linebackers (7)
2021 starters on roster: Chapelle Russell (1)
Others on roster: Foye Oluokun, Devin Lloyd, Chad Muma, Shaq Quarterman, Grant Morgan, Tyrell Adams
Offseason acquisitions: Oluokun (unrestricted free agent, Atlanta Falcons), Lloyd (Round 1, 2022 NFL Draft), Muma (Round 3, 2022 NFL Draft), Morgan (collegiate free agent following the '22 draft), Berry (claimed off waivers, Detroit)
Starters/contributors departed: Myles Jack (released, signed with Pittsburgh Steelers), Damien Wilson (unrestricted free agent, signed with Carolina Panthers)
Offseason assessment: If the Jaguars had a major overhaul at any position this offseason, this was it. The team first allowed Wilson – a 17-game starter last season – to leave as a free agent, then it signed Oluokun as an unrestricted free agent days before releasing Jack. The latter move surprised observers/fans, with Jack having led the Jaguars in tackles since being selected in the second round of the 2016 NFL Draft. Oluokun led the NFL in tackles last season and should be a leader on defense, with coaches expecting him to likely where the "green-dot" helmet as the defensive playcaller and primary communicator between coaches and defensive players.
"I knew he was a very good player," Caldwell said of Oluokun. "And then you watch the film and you see the plays he makes, that just solidifies it. Then you bring him in and start to talk to him and understand that he's a very intelligent guy, a leader, a hard worker, a guy that you would like to stand in front of the huddle and have the guys look to as a leader."
Lloyd, the No. 27 overall selection in the 2022 NFL Draft, is a versatile playmaker who can cover receivers out of the backfield and was effective as a blitzer at Utah.
"You watch the film and you see the play-making ability," Caldwell said. "Then you see him in person … We saw him when we brought him in for the visit and we saw him on draft day. It's just how long he is. That length is going to be to his advantage big time."
Safeties (6)
Offseason assessment: The Jaguars made few changes here after using significant equity on the position in the 2021 offseason – having signed Jenkins as an unrestricted free agent from the Los Angeles Chargers and having selected Cisco in the third round of the draft. They appear likely to be the starters, with Jenkins having participated mostly in individual drills during the offseason program while rehabilitating a broken ankle that cost him the last three games of the season. A key storyline here is Cisco, who the final three games in place of Jenkins last season but who is expected to start alongside the veteran in 2022. He has impressive ball skills, having intercepted 13 passes in 24 games at Syracuse – and that sort of playmaking instinct is needed in a secondary that registered just five interceptions in 2021. "Smart," Caldwell said of Cisco. "You put stuff in and he gets it quickly, able to take it out on the field, make calls, he communicates well, which is huge for us. Just a smart, good, athletic player."
Cornerbacks (12)
2021 starters on the roster: Shaquill Griffin (14), Tyson Campbell (14), Tre Herndon (1), Chris Claybrooks (2)
Others on roster: Darious Williams, Xavier Crawford, Montaric Brown, Gregory Junior, Brandon Rusnak, Shabari Davis, Benjie Franklin, Josh Thompson
Offseason acquisitions: Williams (unrestricted free agent, Los Angeles Rams), Crawford (unrestricted free agent, Chicago Bears), Junior (NFL Draft, Round 6), Brown (NFL Draft, Round 7)
Starters/contributors departed: Nevin Lawson (4)
Offseason assessment: The Jaguars made an expected move here this offseason, adding a third corner to a group where the top two players played well – and improved – for the most part last season. Griffin, who signed with the Jaguars as an unrestricted free agent last offseason, did not have an interception last season but he finished second on the team in passes defensed with seven. Campbell, the No. 33 overall selection in the 2021 NFL Draft, improved dramatically after a difficult start last season; he improved at playing the ball in the air, finishing with two interceptions and a team-high 10 passes defensed. The major offseason move came in the first wave of unrestricted free agency, with the Jaguars signing Williams – who started 23 games with four interceptions over the last two seasons for the Rams. Williams likely will play nickel corner, with Campbell and Griffin starting on the outside, but all three players can play inside and outside. The Jaguars also addressed depth and special teams here in the offseason, re-signing veteran Tre Herndon and signing Crawford as unrestricted free agents then using their final two selections in the draft on Junior and Brown.